We had a low key but great weekend that kicked off with an 8:30 bedtime for me on Friday night.  #wildchild  It was pretty blissful!  Today I'm linking up for the first time with Biana at B Loved Boston for Weekending.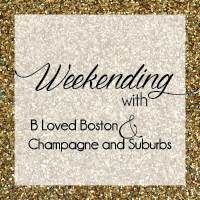 Saturday morning we met our friends Paul & Dianne for an early brunch at Dream Cafe.  It was so good to catch up with them, and we had good food, good coffee, and good conversation!  It was a perfect start to our Saturday. 
After our brunch, we braved Northpark for just a little bit for me to take back some shoes.  I found a cute skirt at Gap and thankfully my sister steered me in the right direction when I sent her an urgent text asking what I should wear with it.  I really wish she lived near me sometimes and could just be my personal shopper! The picture is not the best, but it has small blue and white stripes.  It is so comfy and I think it will be perfect for the 4th! 
On Saturday afternoon, we met our wonderful realtor to look at some houses.  This was our first time looking, and it was pretty preliminary since we aren't looking to move until later this year, but it was definitely good to get out and see some of our preferred areas in person as opposed to the listings we've been looking at online.  It was an encouraging afternoon and we feel like we will be able to find the right house for us soon! 
Sunday morning our church service was full of patriotic music, American flags, and even fireworks!  It was quite a show and so very festive.  Todd Starnes from FNC spoke, and we enjoyed hearing him.  I texted this picture to my sister during the offertory of the SIX pianos on stage.  I told her she needed to be there and add piano #7!  Not only do I wish she lived closer for clothes advice, if she lived here then she could serenade me with her awesome piano skills all the time :)
Sunday afternoon brought not one but TWO naps, which was quite amazing.  We watched our favorite Sunday night program these days of Food Network Star.  Does anyone else watch?  My mom and sisters and I get so fired up to watch this every summer.  Our fingers get quite the workout during the show with texts flying back and forth for the entire hour. 
And now it is Monday of a short week!  I can't wait to see my family this weekend to celebrate the 4th!